70.6% of the traffic you get on your website comes from search engines like Google and Bing!
Wondering why your website doesn't get the attention it deserves? We can help. Our team will provide you with expert SEO plans that'll help you cut through and establish your website as one of the top results on search engines.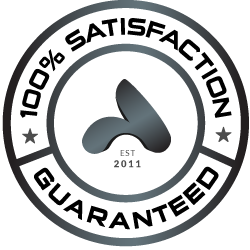 Silver

Gold

Platinum

#Keywords
Keywords
10 Keywords
25 Keywords
50 Keywords
Minimum Contract Duration
Minimum Contract Duration
6 Months
6 Months
6 Months
SEO Strategy and Plan
SEO Strategy and Plan
Research and Analysis
Research and Analysis | Discovering the potential growth of business
Critical SEO Analysis
Critical SEO Analysis
Keyword Analysis
Keyword Analysis
Baseline Ranking Check
Baseline Ranking Check
Content Duplicacy Check
Content Duplicacy Check
Mobile Usibility Check
Mobile Usibility Check
Back Link Analysis
Back Link Analysis
Competitor Analysis
Competitor Analysis
2 competitor
5 competitor
On Site SEO
On Site SEO | Optimization of each web page
Google & Bing Webmaster Setup
Google & Bing Webmaster Setup
Meta Tags Optimization
Meta Tags Optimization
Google Analytics Setup
Google Analytics Setup
SEO Friendly URL Structure
SEO Friendly URL Structure
Unique Titles Tags
Unique Titles Tags
Unique Description Tags
Unique Description Tags
Existing Content Optimization
Existing Content Optimization
XML Sitemaps Creation
XML Sitemaps Creation
Internal Link navigation
Internal Link navigation
H Tags Optimization
H Tags Optimization
Images and Alt tag
Images and Alt tag
Crawl Error Resolution
Crawl Error Resolution
Navigation Analysis
Navigation Analysis
website speed optimization
website speed optimization
Internal Blog post
Internal Blog post
3 Articles (500 word)
7 Articles (500 word)
Off Site Optimization
Off Site Optimization | Setting up backlinks for Ranking
Search Engine Submission
Search Engine Submission
Directory Submission
Directory Submission
Business Listing
Business Listing
Guest Blog Posting
Guest Blog Posting
Upto 4 Post Per Month
Upto 8 Post Per Month
Press Relase Writing
Press Relase Writing
SEO Reports
SEO Reports | Overall Progress of Website Ranking
Google Analytics Report
Google Analytics Report
Keyword Ranking Report
Keyword Ranking Report
Monthly Performance Report
Monthly Performance Report
Watch Now
I Got My First Order With SEO Services Taken From Artimization
Online Jewelry Store Owner Expresses Her Feedback & Experience About Our Branding & Marketing Services. In Just 3 Months, She have got her first order through our Targetted SEO services.
Hear From Happy Clients
Let's Get You Ranked!
Measure Your Websites Performance
$ 152k
Clients Sales Transaction
$ 962k
Ecommerce Transactions
751k
Qualified Calls Generated
You need to know
Your Business Goals Drive
Everything We Do
One SEO formula cannot fit all businesses. Artimization SEO
pricing and services work for three different segments.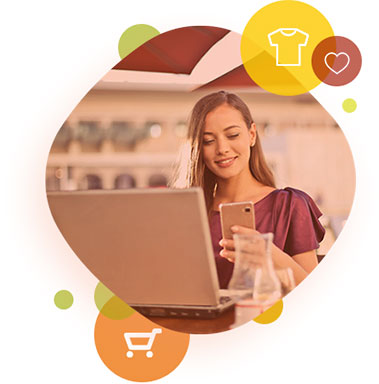 E-Commerce Business SEO: Everything
You Need, Under One Roof
Artimization offers an all-in-one E-Commerce Business Development Package in Pakistan, so you get everything you need to kick start your e-commerce business under one roof. From developing your website to monitoring the end results, we excel in all of it. Our team is available 24×7 to help you keep your website live for business and multiply your revenue by ten folds.
Case Study
How We Have Achieved 70% Success Rate In Just 2 Months
Egygamer hired us for 2 months to do SEO and assist with increasing their overall organic traffic and sales.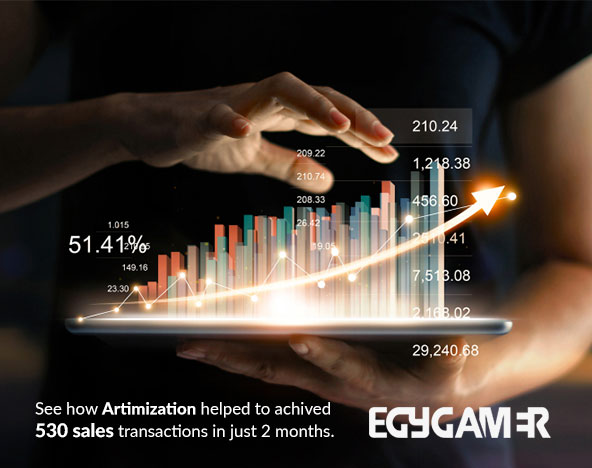 Think Your Business Is Doing Just Fine Without SEO In Pakistan?
That's interesting.
You might be navigating in a small, low-competition niche right now, but sooner or later, your competitor will fly off with a major chunk of your customers. How? It's simple: through an effective Search Engine Optimization (SEO) plan.
Simply put, SEO is one of the most important investments you can make for your business in Pakistan. And the best part? Unlike other major investments, you can get a remarkable ROI on SEO if you do it right.
However, SEO is no longer a one-man show. SEO is highly technical, requiring both on-page and off-page optimization. If not implemented correctly, it can hurt your search engine ranking instead of improving it.
For this reason, you need a professional SEO company like Artimization.
Difference between Affordable and Cheap SEO Services
There are hundreds of companies out there claiming to offer affordable SEO services all over Pakistan. However, there's a difference between affordable and cheap SEO plans. Reach out to a few companies, and you'll understand the difference yourself.
But just in case you don't, here's what you should know about affordable and cheap SEO services:
Affordable SEO Services
Affordable SEO services in Karachi refers to providing your business with trusted services and measurable results at a price that's reasonable for your organization. Of course, the affordability depends on the size of your company and your marketing budget.
Whatever the SEO agency charges, they make sure to provide you trusted, result-driven SEO plans and services that you can monitor yourself.
Cheap SEO Services
Cheap SEO services in Karachi refer to low-cost, poor-performing SEO strategies. Although it may be very easy for your business to purchase these SEO plans and services, it's highly likely that they'll reap a poor return on investment.
While you might think you're getting a great deal, it will be of no use as your search engine rankings and online visibility will hardly improve.
Don't be fooled by agencies offering cheap SEO services while claiming to be affordable. Your business deserves only the best SEO agency – and that is Artimization.
Want To Demolish Your Competition? (Metaphorically, of course!)
Artimization offers complete SEO packages in Pakistan to help you increase your online exposure, gain new customers, and ultimately boost your revenue by multiple folds. Our affordable SEO packages make sure that all businesses – no matter how big or small – can reap the benefits of search engine optimization.
Transparency is at the core of what we do. Our detailed and clear pricing makes it easy for you to keep track of your investment. We offer proper SEO services – including but not limited to – keyword research, on-page and off-page SEO, and an analytics report to help you monitor your progress.
We have 3 different SEO plans – silver, gold, and platinum – so you can choose one according to your budget and requirements.
Partner
Our top-notch search engine optimization services are available in Lahore, Karachi, Islamabad, and anywhere else around the Nation.
We're an SEO company that is based in Pakistan.
When you partner with us, you will gain instant access to an extensive team of experts with a comprehensive understanding of the digital marketing world, first-class content marketing, public relations, and conversion rate optimization which will ultimately boost your revenue by ten folds.
We Deliver What We Promise
If you are tired of agencies in Pakistan quoting you hundreds of dollars for doing just the basics, you have come to the right place.
Your satisfaction is our utmost priority. Besides our standard packages in Pakistan, we also offer customized packages for our clients who want something different. All you need to do is tell us your budget and requirements and then sit back and relax as we take your website (and business) to new heights of success!
Remember: the longer you wait, the more you lose in revenue. 
Search Engine Optimization
frequently asked questions.
What are SEO Packages?
SEO is an online service. There are specific packages made by every company pre-selected by a business owner to increase visibility to your brand and build leads, contacts, and revenues. SEO packages consist of offers that are designed to help the owner in the initial decision-making process.
SEO Packages at Artimization provide a long-term solution to drive pre-qualified and organic traffic to your website in Karachi to improve conversion rates to boost your revenue.
Is SEO affordable in 2021?
SEO is a complex field in itself, and as a business owner, you need to find the most affordable SEO Services in 2021. But don't let that affordability affect your business.
At Artimization, you will not only have the best SEO services in Pakistan, but our SEO experts also provide you an initial consultation about our affordable SEO services. So you can easily attract potential customers to your site without compromising on the quality.
Can I do SEO on my own?
Yes! You can unquestionably do SEO on your own with the help of some good research and lots of practice. But before that, you have to understand the goal of SEO, and you are good to go!
But remember that SEO takes a lot of time. Something which all of us lack in.
Without the help of a professional agency like Artimization, you may not give your website the attention it deserves to rank on top in Pakistan.
How do you research keywords for SEO?
Without a doubt, Keywords are the foundation of SEO. Writing content has no point if nobody is searching for what you are writing about.
Our SEO experts at Artimization will research relevant keywords that are significant to your industry and ensure that the content produced will be relevant and surely searchable on Google.
Will, my website, be able to rank on google, and when?
When you sow a seed, it doesn't immediately grow up. Similar it is with SEO services and Google Rankings, to directly jump to the front page of search results of Google.
It generally takes between 90-180 days, and that too totally relies on your industry's competitiveness.
That's why Artimization has a minimum contract of 6 months to achieve the desired outcomes and help your business grow all over Pakistan with our expertise. But once you start seeing results, there's no coming back because our SEO experts help your SEO results grow over time.
A minimum contract of fewer than six months is negotiable if our client wishes to do so.
How Can I See If My Website Is Indexed On Google?
It's very easy to check your website indexing on search engine like GOOGLE. Just follow this, Type (site:yourdomain.com) and see if your website coming up. For example, If you want to check our website then copy this "site:artimization.com" and paste on google.com! You will see all indexed pages.
Will I get a thorough report of SEO and when?
Our team provides a thorough SEO report to help your business stand out whenever our clients ask for it and whenever needed, along with the easy possible solutions, traffic dynamics, and a list of suitable keywords according to your business requirements.
Are Keywords important for SEO?
Keywords are as crucial to SEO as oxygen is essential to humans. Keywords not only help your website stand out among your competitors, but they also help your business to keep running and winning the search marketing campaign.
Our SEO experts at Artimization search the exact and relevant keywords required for your business to rank above your competitors with a surety of easily searchable relevant content on Google in Karachi, Lahore, and Islamabad.
Is it worth it to pay for SEO?
SEO is here to stay for the long run. Most business owners are making money because Google puts them at the top of the search results through the SEO Packages and Plans.
SEO Services at Artimization are worth paying because our SEO packages and plans are highly effective and could rapidly promote your business up the Google rankings quickly, efficiently, and affordably.
If I invest in SEO, not in SEM, will my ROI be affected?
SEO is an organic and long-term yet effective strategy to help our clients rank their websites on top of search engines. In contrast, SEM is a paid strategy and a business tactic to help your business gather attention.
Artimization knows the power of SEO and its strategies. Our team of expertise implements those business strategies that are dependent on our client's unique business and goals.
Do you provide customized SEO packages and plans?
A Big Yes! SEO Packages at Artimization can be customized as per our clients' needs. Our team of experts targets your business requirements and goals. We are eager to work with our clients and fulfill their business needs. We are providing our client's customized SEO-based solutions with a surety to get the best outcome of our services and the deal we made with our clients.
How can I see whether my website is correctly indexed on Google?
If you want to check whether your website is listed correctly, crawled, and indexed on Google, all you have to do is a type (site:yourdomain.com), and you can easily see if your website is indexed or coming up.

Do you have any Question?
Artimization team believes in entertaining our visitors and is ready to answer your questions.
Type down your thoughts and get perfect possible solutions to your questions.